Saturday, February 20, 2021
Synastry: The Mirror of Relationship
with Stephanie Austin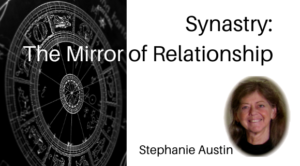 All relationships, whether as friends or family, work or life partners, provide mirrors for us to see undeveloped parts of ourselves. In this time together we'll explore two ways of assessing the primary challenges and gifts of any type of relationship: one comparing the planetary themes of each person, the other a more complex process, determining soul desires and current growth edges through natal, progressed, transit, and composite charts. We'll also talk about how to work with the dynamics created by shadow aspects and projection.
Stephanie Austin M.A. is a full time astrologer specializing in life purpose, career, and relationship readings since 1986. She also teaches astrology, and wrote the New and Full Moon column for the Mountain Astrologer magazine for 14 years. Her background includes a bachelor's degree in Psychology, a master's in Consciousness Studies, and a lifelong involvement with meditation, Nature, and healing. For more information on her astrology readings, eBooks, tutorials, and forecasts, visit her website at www.EcoAstrology.com.
Saturday, February 20, 2021
11 am – 1 pm
$10 NCGR, SDAS, SCAN members
$15 Non-members
This event is recorded. Everyone who registers will get a copy of the recording.
You will receive the Zoom link in a separate email. (Please note it may take several hours before you receive the Zoom link). This meeting will be recorded. All participants registered will receive a link to download the recording.


We have some sad news to share with you all about one of our NCGR San Diego Board members. Our beloved Vice President, Diane Ronngren, recently transitioned from this earthly plane. She is now with the stars she loved and watched for many, many years, and reuniting with family, friends, and pets she's not been within quite some time.
This is a devastating loss for many of us who held Diane close in our hearts, and she will be greatly missed. Because of the pandemic, we are unable to gather together in person to celebrate Diane's life. If you wish to do something to commemorate Diane's life and contribution to astrology, I'm sure she would be honored to have donations made in her name to the Helen Woodward Animal Center https://animalcenter.org/