Saturday, May 18, 2019
What Do These Transits Mean to Me?
with the NCGR-San Diego Board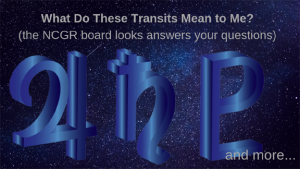 NOTE: New Location! See address below.
The Sun goes up in the morning, and the Moon is in the night sky… We're aware of these things, but often all we have time for is dealing with the day-to-day requirements of our lives. At our May Aquarius Cafe meeting we'll focus on the current transits: Saturn/South Node/Pluto conjunction, Jupiter/Neptune square, and the retrograde energy of Jupiter, Saturn and Pluto.
The San Diego Chapter of NCGR prides itself on offering education and information at its meetings. Our calendar includes wonderful speakers from all over the world (and our own back yard) who share their insights and knowledge with us. This month we go back to our roots–offering an opportunity for each of us individually to focus on how the celestial movement affects our personal lives, as seen in our individual charts.
Your Board Members will answer questions, and guide the conversation, and all of us can share what we know with each other. Bring your chart and your questions this month, and let's figure out what these transits mean to us!
Saturday, May 18, 2019
11 am – 1 pm
$8 NCGR, SDAS, SCAN members
$12 Non-members
*Please note the new location
Encinitas Community Center
1140 Oak Crest Park Drive, Room 120, Encinitas, CA 92024