Saturday, October 21, 2023 at 11 am PT
Seven Methods of Prediction
with Armand Diaz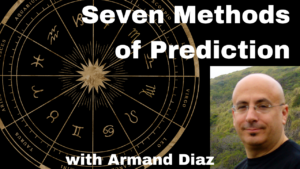 Seven Methods of Prediction
There are many ways of looking into the future, but how do we know which one works best for us as astrologers, and which are most helpful for our clients? You'll discover how to find the methods that work best for you, and the situations where they are the most effective. We'll cover transits, secondary progressions, solar arc directions, the Huber Life Clock, annual profections, zodiacal releasing, and solar/lunar returns. Each method will be covered in sufficient depth for you to get a practical feel of its value for your professional work.
Armand Diaz, Ph.D., is a PAA certified consulting astrologer. He is the author of several books and hundreds of articles, and he speaks on astrology regularly both nationally and internationally. Armand is currently the book reviewer for NCGR's 
Memberletter
, and a contributing editor for 
eNews
. He was the president of NCGR from 2019 through 2022. He can be reached via his website, 
ArmandDiaz.com
You will receive the Zoom link in a separate email. (Please note it may take several hours before you receive the Zoom link). This meeting will be recorded. All participants registered will receive a link to download the recording.
Saturday, November 18, 2023 at 11 am PT
Finding Success in the Horoscope
with Jackie Slevin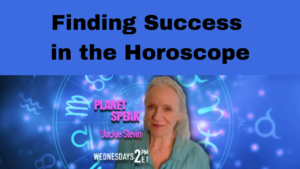 Finding Success in the Horoscope
Discover the Slevin System of Chart Analysis that uses Occam's razor of planetary shorthand to define optimum potential and one's True North. Determine the most effective itinerary to fulfillment and success, including alternate routes.
Jackie Slevin M.A., C.A. NCGR-PAA, is a certified astrologer and the author of Finding Success in the Horoscope, available on Amazon.com. An internationally published and full-time professional Astrologer, she is the Education Director for the National Council of Geocosmic Research  (NCGR), and hosts their monthly webinars. A graduate of Classical Studies in Horary and a biography writer for Lois Rodden's Astrodatabank, she has been featured in The Bergen Record, the New York Post, and numerous radio shows and podcasts. She was a columnist for Horoscope Guide Magazine for 14 years and currently serves as the Secretary of the Northern New Jersey Chapter of NCGR. Her cable TV show "Planet Speak" is available on YouTube.com.
Visit her website at www.gecosmicstudies.com
Saturday, December 16, 2023 at 11 am PT
Midpoint Magic: Interpreting Important Points
with Clarrisa Dolphin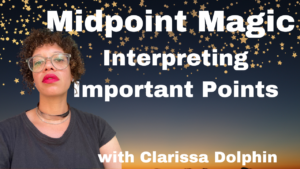 Midpoint Magic: Interpreting Important Points
Direct midpoint structures are some of the most accurate, precise, yet underused tools for chart delineation in the whole of astrology. In this lecture, we will be locating and using these invaluable invisible strings in a live interpretation lab.
Clarissa Dolphin is a certified astrologer, writer, and active researcher. She earned two B.A.s from the University of Pittsburgh and a Masters from the University of the Arts London. She writes horoscopes for The Mountain Astrologer and is a Mystic Medusa locum. Clarissa has also been featured in The New York Times, The Career Astrologer, Dirty Laundry, Notion, award-winning art magazine FAINT, and more. She's conducted breakthrough research on the Lunar Nodes, the Quincunx, Arabic Parts, and Chiron. Clarissa lectures, serves clients and the astrology community on the ISAR Board. You can reach her at SiderealSoul.com and @clarissadolphin on socials.


October 2020: We have some sad news to share with you all about one of our NCGR San Diego Board members. Our beloved Vice President, Diane Ronngren, recently transitioned from this earthly plane. She is now with the stars she loved and watched for many, many years, and reuniting with family, friends, and pets she's not been with in quite some time.
This is a devastating loss for many of us who held Diane close in our hearts, and she will be greatly missed. Because of the pandemic, we are unable to gather together in person to celebrate Diane's life. If you wish to do something to commemorate Diane's life and contribution to astrology, I'm sure she would be honored to have donations made in her name to the Helen Woodward Animal Center https://animalcenter.org/