Saturday, June 19, 2021
Four Steps to Holistic Chart Interpretation
with Tony Howard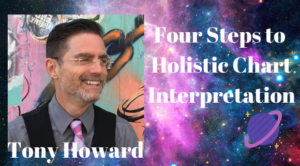 After learning the core symbols of astrology – planets, signs, houses, and aspects – many budding astrologers find it difficult to weave the multiple symbols together into a cohesive understanding of the natal chart. In this talk, Tony will share the 4 steps he recommends for holistic chart interpretation. We'll start by reviewing the steps and then apply them to a notable person's chart as we go. This talk will help if you've struggled trying to pull together a cohesive analysis out of all of the details in a natal chart by seeing the process demonstrated in a step-by-step way. You'll learn a system you can use to identify the core aspects and themes to focus on in your own chart interpretations.
Tony Howard is the founder of Astrology University. Tony's writing has been featured in The Mountain Astrologer and the Flare anthologies: Astrology, the Next Generation, and The Book of Music Horoscopes. His new book on out of bounds planets will be released in 2020. https://www.astrologyuniversity.com/
Saturday, June  19, 2021
11 am – 1 pm
$10 NCGR, SDAS, SCAN members
$15 Non-members
This event is recorded. Everyone who registers and pays will get a copy of the recording.
You will receive the Zoom link in a separate email. (Please note it may take several hours before you receive the Zoom link). This meeting will be recorded. All participants registered will receive a link to download the recording.


October 2020: We have some sad news to share with you all about one of our NCGR San Diego Board members. Our beloved Vice President, Diane Ronngren, recently transitioned from this earthly plane. She is now with the stars she loved and watched for many, many years, and reuniting with family, friends, and pets she's not been with in quite some time.
This is a devastating loss for many of us who held Diane close in our hearts, and she will be greatly missed. Because of the pandemic, we are unable to gather together in person to celebrate Diane's life. If you wish to do something to commemorate Diane's life and contribution to astrology, I'm sure she would be honored to have donations made in her name to the Helen Woodward Animal Center https://animalcenter.org/