Saturday, March 21, 2020
The Origin and Applications of the Sabian Symbols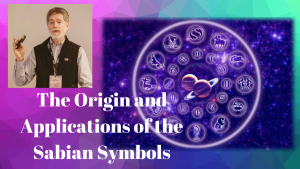 The Origin and Applications of the Sabian Symbols 
​The Sabian Symbols were brought forth in 1925 in San Diego's Balboa Park via astrologer ​Marc Edmund Jones and his student, Elsie Wheeler​. We'll look at the history of the symbols, how they were further developed by Jones and Dane Rudhyar, and how they are used today. We'll examine the resonance between the Sabian​ ​Symbols and the natal charts of famous people, the charts of​ ​countries, as well as historical events. We'll also look at the Sabian Symbols as a horary tool, as an aid to chart rectification, and more. ​
David Perloff is a professional astrologer living near Boston, Massachusetts. His primary astrology teacher was Betty Caulfield, who was a student of Marc Edmund Jones. David's talks have been well received throughout the United States as well as internationally.
He has given this Sabian Symbol talk in Portugal (Lisbon) and Canada (Toronto). David's writing has appeared in Dell Horoscope Magazine, The Mountain Astrologer, the Geocosmic Journal, and other publications.
Web site: http://davidperloffastrology.com/
FB: https://www.facebook.com/davidperloffastrology
Saturday, March 21, 2020
11 am – 1 pm
$10 NCGR, SDAS, SCAN members
$15 Non-members
Google Maps will NOT give you the correct directions to the Encinitias Community Center. See map for directions.
Encinitas Community Center
1140 Oak Crest Park Drive, Room 120, Encinitas, CA 92024 
If you are heading East on Encinitas Blvd, turn right onto Balour, left onto Oakcrest Park Dr. and left into the parking lot.
If you are heading West on Encinitas Blvd, turn left onto Balour, left onto Oakcrest Park Dr. and left into the parking lot.