Saturday, December 16, 2023 at 11 am PT
Midpoint Magic: Interpreting Important Points
with Clarrisa Dolphin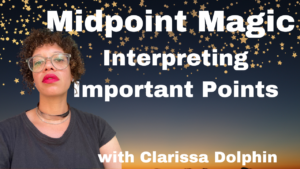 Midpoint Magic: Interpreting Important Points
Direct midpoint structures are some of the most accurate, precise, yet underused tools for chart delineation in the whole of astrology. In this lecture, we will be locating and using these invaluable invisible strings in a live interpretation lab.
Clarissa Dolphin is a certified astrologer, writer, and active researcher. She earned two B.A.s from the University of Pittsburgh and a Masters from the University of the Arts London. She writes horoscopes for The Mountain Astrologer and is a Mystic Medusa locum. Clarissa has also been featured in The New York Times, The Career Astrologer, Dirty Laundry, Notion, award-winning art magazine FAINT, and more. She's conducted breakthrough research on the Lunar Nodes, the Quincunx, Arabic Parts, and Chiron. Clarissa lectures, serves clients and the astrology community on the ISAR Board. You can reach her at SiderealSoul.com and @clarissadolphin on socials.
You will receive the Zoom link in a separate email. (Please note it may take several hours before you receive the Zoom link). This meeting will be recorded. All participants registered will receive a link to download the recording.


October 2020: We have some sad news to share with you all about one of our NCGR San Diego Board members. Our beloved Vice President, Diane Ronngren, recently transitioned from this earthly plane. She is now with the stars she loved and watched for many, many years, and reuniting with family, friends, and pets she's not been with in quite some time.
This is a devastating loss for many of us who held Diane close in our hearts, and she will be greatly missed. Because of the pandemic, we are unable to gather together in person to celebrate Diane's life. If you wish to do something to commemorate Diane's life and contribution to astrology, I'm sure she would be honored to have donations made in her name to the Helen Woodward Animal Center https://animalcenter.org/