Saturday, May 15, 2021
Age Cycles
with Georgia Stathis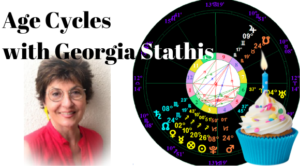 When we work with our clients, it is important to first identify their age because that provides us with a perspective regarding their experience and life development. For example, an individual who hasn't reached their first Saturn return will have a vastly different life experience than the client approaching their second or even third Saturn return.
Has the individual gone through the outer planet transits yet, like age 42's Neptune square Neptune? In addition, there are other things happening at the same time with some of these age cycles. At age 36 to 37, they are experiencing three different things at the same time: Transiting Saturn is in a first-quarter square to their natal Saturn, while they are experiencing their Lunar Nodal return and their THIRD Jupiter return. This is a standard sequence and with this knowledge and all the other transits occurring – it makes a difference in your delineation. The lecture will discuss this way of delineating and provides the student with a 'tool' list that they can keep at their desks when working with clients or doing research.
Georgia Stathis is an internationally known natal and business astrologer and teacher since 1977. She received her Bachelor of Science degree from Northwestern University and her MBA from Pepperdine.
She authored Business Astrology 101, Pushing through Time: Synodic Cycles and their Developing Phases (2019); the annual Starcycles Cheat Sheet. Her website, www.starcycles.com, offers downloadable lectures and articles. She is chair of the Alexandria iBase Library Preservation project (in collaboration with Urania Trust and Kepler) designed to preserve and catalogue astrological literature for future generations. A 7- year service, it is a 501C3 Non-Profit Educational Foundation. It is a free database offered to the global community for looking up authors, topics, titles of astrological materials for research and learning possibilities. At the present time, there are 20,000 catalogued items. Georgia helps her clients identify those things that are important to them, which also are crucial in helping them identify their next steps.
Saturday, May 15, 2021
11 am – 1 pm
$10 NCGR, SDAS, SCAN members
$15 Non-members
This event is recorded. Everyone who registers and pays will get a copy of the recording.
You will receive the Zoom link in a separate email. (Please note it may take several hours before you receive the Zoom link). This meeting will be recorded. All participants registered will receive a link to download the recording.


October 2020: We have some sad news to share with you all about one of our NCGR San Diego Board members. Our beloved Vice President, Diane Ronngren, recently transitioned from this earthly plane. She is now with the stars she loved and watched for many, many years, and reuniting with family, friends, and pets she's not been with in quite some time.
This is a devastating loss for many of us who held Diane close in our hearts, and she will be greatly missed. Because of the pandemic, we are unable to gather together in person to celebrate Diane's life. If you wish to do something to commemorate Diane's life and contribution to astrology, I'm sure she would be honored to have donations made in her name to the Helen Woodward Animal Center https://animalcenter.org/